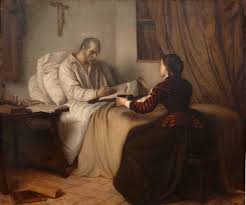 "Indeed! this is most exemplary conduct," said Cortado; "but pray do not the priests sometimes order these religious persons to make restitution or penance?"
"No," returned the other, "because they never go to confession; and if letters of excommunication are taken out against them, they are not likely to know it, because they never go to church during the time they are read; excepting, indeed, at the great holiday, when the crowd of people gathered there makes it a matter of business."
"Pious rogues!" ejaculated Rincon. "And what is the harm of it?" cried the other. "Is it not much worse to be a heretic? or to murder your father and mother?" "Why, that certainly is very bad," said Rincon; "but as fortune is so kind as to allow us to be of this respectable fraternity, I must beg you, sir, to quicken your pace, for I am dying to see our respectable friend Monipodio, of whose virtues you have said so much."
Fanciful brickwork
"Your praiseworthy impatience shall soon be gratified, for we are already arrived; but you must wait awhile at the portal, while I go within to see whether he is at leisure; for this is the hour he usually gives audience." The companions had just time to survey the house, which was not of the most promising appearance, when their guide reappeared, and called them in. They entered a small courtyard, paved with fanciful brickwork, of a bright red color: on one side was a bench with three legs; and on the other a broken jar, placed on a stand not in a much better condition. In another place was a rush mat, and in the middle was a space for flowers.
The boys observed everything attentively; and as the Senor Monipodio did not make his appearance, they took the liberty of entering the lower room, which adjoined the courtyard. There they beheld two fencing swords, with two shields of cork, suspended on pegs; a large bow without any case, and three more rush mats on the floor. On the front wall was placed an image of the Virgin, of no great merit in its workmanship; under which was seen a small basket, and a white basin; serving, as Rincon shrewdly conjectured, the former to receive alms, and the latter for holy water.
While they were waiting, there arrived two young men about twenty years of age, dressed as students; shortly afterwards came two of their mothers of the basket, and a blind man, who all walked about the open space without speaking a word to each other. Shortly after them came two elderly persons in spectacles; they looked grave and respectable, and carried in their hands good-sized rosaries.
Read More about Rinconete and Cortadillo part 19