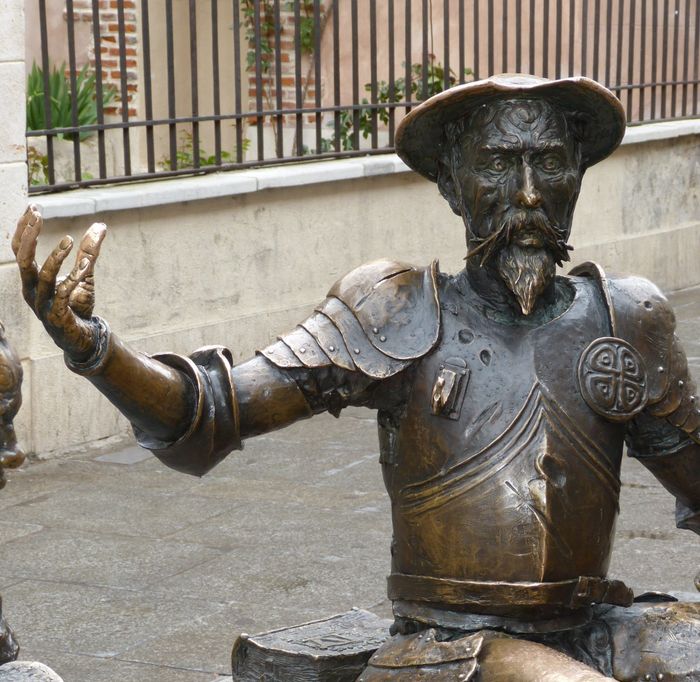 She had hardly spoken these words, when a boy entered, bearing a large basket covered with a sheet. The good people seemed all very much delighted with the appearance of Silvatillo; and Monipodio, taking one of the rush mats, placed it in the middle, and invited his friends to place themselves round it; then, uncovering the basket, which contained abundance of eatables, he desired every one to carve for himself.
There was no want of good-will in obeying this injunction, and the knives of the guests were put in requisition; Cortadillo making use of his scanty sword in lieu of a better and more appropriate weapon. The contents of the basket were soon dispatched; and some elderly gentlemen who were of the party, obtained permission to leave, having, as they said, some important business to attend. These reverend members of the community, it appeared, were of the utmost utility; obtaining access by the respectability of their age to houses of consideration, and then ascertaining their value, and facilities for plunder, with which they did not fail to acquaint their worthy employer.
The meal was scarcely finished before a disturbance was heard within, and one of the scouts came running in to inform them that the justice, followed by a whole posse comitatus, was advancing to the house. In an instant all was confusion; the remains of the feast were scattered on all sides.
Secure in conscious innocence
Bravos and priests, old and young, lame and blind, instantly betook themselves to their different hiding-places for refuge; and in an instant, the scene of hilarity became as tranquil as though there had been no revelers there. Cortadillo and his friend remained, because they knew not whither to fly; and Monipodio, secure in conscious innocence, as master of the house awaited the coming storm.
It proved after all a groundless alarm. The justice passed on his way to some other quarter, and the runaways were about to be recalled, when a cavalier was introduced, who seemed to be known to Monipodio, who ordered the bravos to be called down, but no others.
"How is it," said the cavalier, "that you have not executed my commands?"
"I do not know what has been done in the business," replied Monipodio, "but hear the artist who had the affair in hand, and I will answer for it he can give you good reason." He then called Chiquiznaque to give an account of his commission.
"Is it of the merchant in the crossway?" asked the man of office. "The same," said the cavalier.
Read More about Bulgaria trips