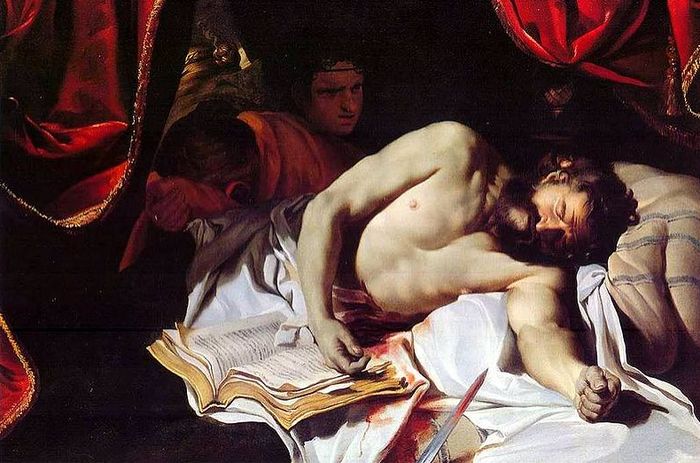 The dwarf gave a hard, wringing motion of his hands. The diamond Lord Bolingbroke`s gift which ornamented Pope`s left hand cut into the flesh of his little finger, so cruel was the gesture; and this little finger was bleeding as Pope tripped forward, smiling. A gentleman does not incommode the public by obtruding the ugliness of a personal wound.
"Do 1 intrude?" he queried. "Ah, well! I also have dwelt in Arcadia. It was bitter to comprehend that he had never done so.
The lovers were visibly annoyed; yet, if an interruption of their pleasant commerce was decreed to be, it could not possibly have sprung, as they soon found, from a more sympathetic source.
John Hughes
These were not subtle persons. Pope had the truth from them within ten minutes. They loved each other; but John Hughes was penniless, and old Frederick Drew was, in consequence, obdurate.
"And, besides, he thinks you mean to marry her!" said John Hughes.
"My dear man, he pardonably forgets that the utmost reach of my designs in common reason would be to have her as my kept mistress for a month or two," drawled Mr. Pope. "As concerns yourself, my good fellow, the case is somewhat different. Why, it is a veritable romance an affair of Daphne and Corydon although, to be unpardon- ably candid, the plot of your romance, my young Arcadians, is not the most original conceivable. I think that the denouement need not baffle our imaginations."
The dwarf went toward Sarah Drew. The chary sunlight had found the gold in her hair, and its glint was brightly visible to him. "My dear " he said. His thin long fingers touched her capable hand. It was a sort of caress half-timid. "My dear, I owe my life to you. My body is at most a flimsy abortion such as a night`s exposure would have made more tranquil than it is just now. Yes, it was you who found a caricature of the sort of man that Mr. Hughes here is, disabled, helpless, and for reasons which doubtless seemed to you sufficient contrived that this unsightly parody continue in existence. I am not lovable, my dear.
I am only a hunchback, as you can see. My aspirations and my sickly imaginings merit only the derision of a candid clean- souled being such as you are." His finger-tips touched the back of her hand again. "I think there was never a maker of enduring verse who did not at one period or another long to exchange an assured immortality for a sturdier pair of shoulders. I think I think that I am prone to speak at random," Pope said, with his half-drowsy smile. "Yet, none the less, an honest man, as our kinsmen in Adam average, is bound to pay his equitable debts."
She said, "I do not understand."
Read More about The Jewish Mother 2