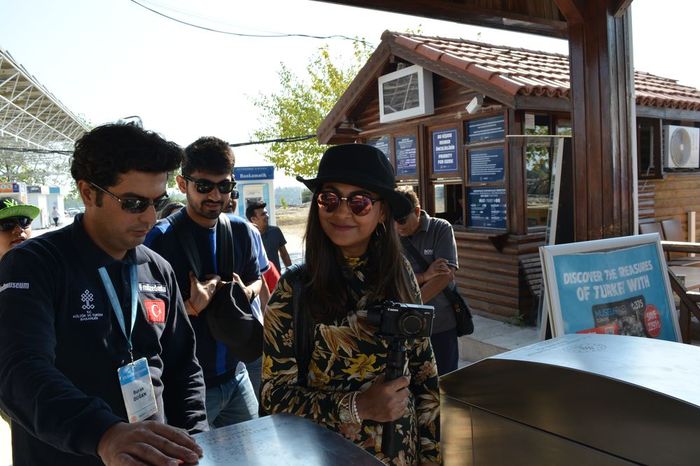 His second object was to escape Diogenes's notice when he drew near the passes into Cilicia, to make his way quietly through the tortuous mountain defiles, and after traversing all the difficult parts, to present himself unexpectedly before the enemy. Our men set about this task, and in accordance with the plan, they marched through the pass on a narrow precipitous path. Meanwhile the emperor was terribly worried in case his rival should be caught by our soldiers, and either fall fighting, or having been taken alive be mutilated in some part of his body.
37. Many a time I have seen him weep over this, risking his own life if only his adversary might be spared any suffering. The man was his friend, he said, and there were covenants between them, which he was afraid might be broken. So certain priests, men of peace, were entrusted with a friendly message to Diogenes.**278 They had a letter from Michael, in which he made all kinds of promises, but at the same time counselled him, stubborn as he was, to submit.
Armenian Chatatoures
38. Before this message arrived, however, Diogenes was already engaged in war. He himself remained inside the fortress**279 previously seized by him with a handful of men, but practically all his army was under the command of the Armenian Chatatoures, whom I mentioned in a preceding chapter, and had been sent out to do battle, apparently with every chance of success. The Armenian, advancing with infantry and cavalry, had seized the points of vantage before our men arrived, and his forces were drawn up in battle order. For the most part, they were fine physical specimens, and most eager for combat.
39. Facing Chatatoures, with his army also arranged for battle was Andronicus. Before the soldiers formed up in close order and the two armies came to grips, Crispinus the Frank**280 (I am writing these words on the very day he died) was standing with Andronicus and they were encouraging one another. This Crispinus had at first appeared as an enemy to the Romans, but later he changed his attitude, and his new loyalty was no less evident than his former hostility.
Seeing Diogenes's men now prepared for battle, Crispinus exhorted Andronicus to trust him, saying that he was going to charge the enemy cavalry. With that, he and his men rode at full gallop against their centre. He cut right through the ranks, and when he saw resistance was feeble, the rebels only withstanding his attack for a few moments and then running away, he pursued the fugitives with a handful of his knights. Thus he inflicted heavy losses and took still more prisoners.
Read More about Rinconete and Cortadillo part 7