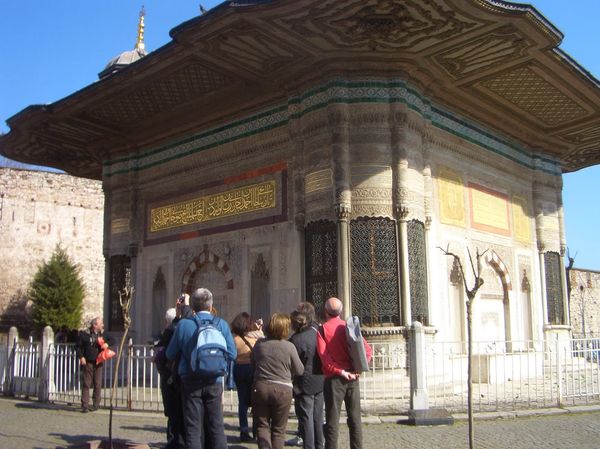 The German Fountain
The German Fountain (Alman Cesmesi) or the Fountain of Kaiser Wilhelm U, surrounded with columns that are open at the top and a dome, is located between the Hippodrome and the Blue Mosque. The fountain is built owing to a trip of Kaiser Wilhelm U to the East, thus named after him. At Meydani (Sultanahmet).
Fountain of Sultan Ahmet III
This decorative fountain, standing just next to the outer entrance of the Topkapi Palace was built in Ottoman-Baroque style in 1728 and taken the name of Sultan Ahmet III. The beautiful relieves on it, framed bow-windows, stalactite decoration and tiles as well as its overhanging roof are dazzling.
Tophane Fountain
Tophane Fountain (Tophane Cesmesi), the most dazzling Baroque fountain in Istanbul, is located between Kilic Ali Pasa and Nusretiye mosques in Tophane. It was built by Sultan Mahmut I in 1732. Its marble walls ornamented with flowers, arabesques and its overhanging roof are good examples of liveliness of Ottoman Baroque style. Necatibey Caddesi, (Tophane).
Yerebatan Basilica
Across Haghia Sophia, Yerebatan Basilica was built as an underground cistern in the 6th century. Its 336 columns in total are arrayed in 12 rows of 28 each. The capitals of the columns have Corinthian and early Byzantine qualities. Two fine Medusa heads were revealed during the carefully made restorations in this cistern that is the biggest and the only one open to visitors among the 70 cisterns in the city.
Open between 9 AM-S PM, every day except Monday, Yerebatan Caddesi (Sultanahmet).
Read More about Bulgaria private tours Kazanlak